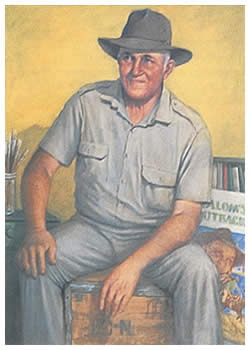 Born in Port Augusta, South Australia, Jack moved with his family to the Nullabor Plain when he was five years old. Here he learned bush skills from aboriginals who at this time were still in their tribes. Working in many fields, including 15 years as a professional kangaroo shooter, he has developed an unrivalled expertise of the Australian inland.

For more than 50 years Jack has lived in Broken Hill, New South Wales, with his wife Mary where they raised five children. Today he is a very successful professional artist. His exquisite gallery was opened in April 1997 and attracts over 100,000 visitors a year. His display of oil paintings, prints and a magnificent opal display is surpassed by none.

He is a successful author of a number of books including "Safe outback travel" and "Outback cooking in the camp oven" which are both still best sellers after 30 years in print. He also has a magnificent book celebrating 20 years as an artist and a recently updated "Art of Broken Hill" book featuring a selection of the artists and art of Broken Hill.

Jack was a member of the "Brushmen of the Bush" a group of 5 artists that exhibited in Australia and all over the world for many years raising thousands of dollars for charity. Jack has made many televisions programs for the ABC including "Absalom's Outback", as well as survival programs and many documentaries on Australia and the outback. His time is spent painting, travelling through the outback of Australia and speaking on a wide range of subjects including aboriginal culture, survival in the outback, preservation of our country, tourism and of course art.

He has many highlights in his career including Australian achiever of the year award in 1988 for his contribution to art. In 1995 he was the recipient of both an Advance Australia award for his contribution to art and a Broken Hill Citizenship award for his promotion of Broken Hill. In 2006 he was awarded The Medal of the Order of Australia (OAM) for service to the visual arts as a painter, and to the community through fundraising for a range of charitable organisations.