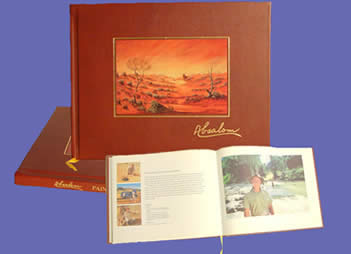 "LEATHER BOUND BOOK"
Few people are as familiar with Australia's most rugged and remote areas as bushman, artist and TV personality Jack Absalom. He regularly visits his favourite haunts - from Mount Sonder in the Northern Territory to the Bungle Bungles of Western Australia and South Australia's Flinders Ranges - painting the scenery in its ever-changing moods.

In this book you will find some of the paintings he has done of these areas and also paintings that he did for some of his television programs.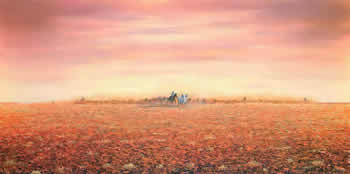 Each painting is accompanied by firsthand accounts of the circumstances surrounding the paintings and includes short factual notes on points of interest.

This limited edition collector's item is numbered and personally signed by Jack Absalom.

It is superbly bound in fine leather with gold writing and would look good on any coffee table.
We have used PayPal as a payment option, if this is not convenient please contact us to discuss other payment options available.
$145.00 includes postage and handling.

Payment Options available through Checkout: PayPal, Visa and Mastercard
Direct deposit to Pitinjarra Pty. Ltd
BSB: 032 816 Account No: 740139
Contact Us if using the Direct Deposit option please.